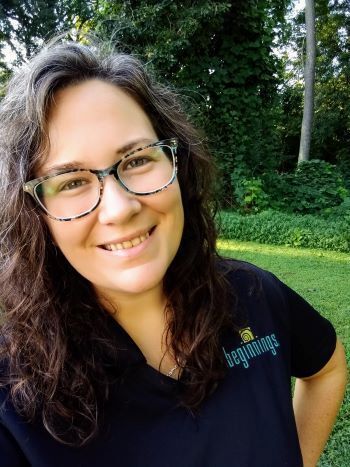 Q: Tell us a little about your professional and family background.
A: The majority of my professional career has been spent in an office setting. I have managed multiple storage facilities, had the opportunity to assist individuals with a fresh start in life
through the North Carolina Expungement process, and performed basic clerical duties within the Clerk of Courts office and then a private law firm.

I have had the opportunity to live by the beach in Florida, the mountains of Western Massachusetts, and the suburbs of Atlanta, Ga. and Boston, Ma. In 2013, I moved to North Carolina with my two oldest children for a fresh start. Since then, I have remarried, had two more children and relocated to our family's farm near the coast.

Q: What kind of work do you do with BEGINNINGS?
A: Late last year, I accepted a new role within BEGINNINGS as our Program Administrator/ESSERF Coordinator. As our Program Administrator, I work behind the scenes. It is my responsibility to ensure all new family referrals are processed correctly, I manage our product sales, inventory, ensure all of our staff members have the supplies they need, and assist staff in any technological issues which may arise. I process applications for our Grants to Parents Program, assist with our website development, and a plethora of other activities. As our new ESSERF Coordinator, I coordinate events for BEGINNINGS' Elementary and Secondary School Emergency Relief Fund (ESSERF) contract and our ESSERF contract for Virtual Meetings. This includes everything from registration for the events, technical aspects of our virtual meetings, food, staff, volunteers, etc.

Q: What do you like most about your job and why?
A: I really like the variety of work I perform on a daily basis -- every day brings something different. I enjoy all the behind-the-scenes technical work, learning how to configure our website properly, and helping to make sure our Parent Educators have what they need to advocate for all BEGINNINGS families.
Q: Is there any particular family, project or situation that has inspired you while you have worked at BEGINNINGS?
A: BEGINNINGS' Parent Educators have greatly impacted my personal life. In August of 2022, I gave birth to my daughter and was looking forward to watching the process in the hospital of screening her hearing health, as I had not seen it before (this is required in N.C. hospitals today). I was quite surprised when the doctor said she had passed in her left ear but might need another test of her right ear, as there is no family history of childhood hearing loss in our family. As a parent, I should have been nervous about this with millions of questions running through my mind. Yet because of the incredible team I work with at BEGINNINGS, none of the typical questions or thoughts crossed my mind. All I could think of was how lucky are we to have such an amazing group of teachers, mentors, and friends to help guide us in this possible journey ahead.
Ultimately, my daughter passed her secondary hearing screening, but to have known, regardless of the outcome, that she would thrive in life is what I took away from the situation. The work of BEGINNINGS' Parent Educators truly does inspire peace of mind knowing you have someone who cares, who is there when you need them, and who will answer ALL of your questions without hesitation or judgment.