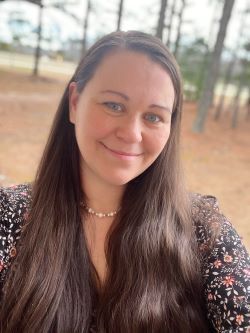 Q: Tell us a little about your background.

A: I have a B.S. and M.A. in Health Education and Promotion from East Carolina University. It has always been my goal, throughout my career, to help children and families in NC to live their happiest and healthiest lives. I've been blessed to be able to do that as a parent educator, social worker, and public school educator. Working as a middle school science educator was one of the biggest times of growth in my life, as I feel I learned so much from the adolescents I taught about authenticity, creativity, and finding joy in difficult times. Now, as a parent educator, I bring those things with me to help parents navigate the world of hearing loss, especially in the medical and school settings.

Q: What drew you to the type of work you do at BEGINNINGS?

A: As a general education teacher, I had the pleasure of working with many families of students with disabilities and special needs over the years. The tenacity and strength of these families has inspired me and I am thrilled to be able to work with so many families across the development age span as a Parent Educator for Beginnings.

Q: What is your role with BEGINNINGS?

A: I am a Parent Educator, serving mostly northeastern North Carolina. I grew up in Nash County and returned there during the pandemic. I have a great sense of pride and connection with this part of the state. I love connecting with families over rural life, the joy and sometimes burdens of being from a small town, and enjoy working with small school districts striving to serve their students.

Q: Is there one family or a particular family's situation that has most inspired you while you have been with BEGINNINGS?
A: It is so difficult to pick just one family! They are all so special to me in so many ways. I have really enjoyed the fact that one day I will serve a family of child getting ready to go off to college, and the next day I can meet a family of a newborn just starting their journey as a parent.