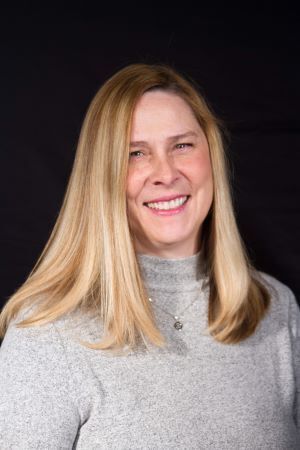 Q: Tell us a little about your background.
A: My homeown is Wilmington, NC and I love the beach anytime of the year. I have been married for 29 years and we have an adult daughter and son. I have a passion for knitting and weaving, and enjoy spending time with my family and two dogs. I have a Bachelor's degree in Psychology from UNC Wilmington and earned my Master's degree in Vocational Rehabilitation/Evaluation from East Carolina University.

Q: What drew you to the type of work you do at BEGINNINGS?
A: I have focused my studies and career to work with people who are Deaf or Hard of Hearing. I was a Vocational Rehabilitation Counselor for teens in Greenville, NC early in my career. When my family relocated to Asheville, NC I worked as a Hard of Hearing Specialist for the NC DSDHH. I now live near Charlotte, NC and have been working with BEGINNINGS since November 2003.

Q: What is your role with BEGINNINGS?
A: In my almost 20 year career with BEGINNINGS, I have worked as a Parent Educator and Lead Parent Educator, serving hundreds of families and professionals across North Carolina. I was promoted to Director of Programs in January 2018 and I have thoroughly enjoyed this role. I provide direct supervision and guidance to the Lead Parent Educator and all the Parent Educators statewide. I provide administrative support to our Executive Director for the many programs of BEGINNINGS. I assist in the training of new staff and am still able to directly serve families and professionals occasionally.

Q: Is there one family or a particular family's situation that has most inspired you while you have been with BEGINNINGS?
A: There are so many wonderful families to choose from that have inspired me, so this is a difficult question to answer. I once served a family that adopted two young children who had hearing loss after their older children were in college. The parents took in all the resources given to them by BEGINNINGS and were incredible advocates for their children. I supported them in several school meetings over the years and provided additional resources and support when needed. I wholeheartedly believe in our mission to impartially inform and support parents so that they are empowered to make the best decisions for their child and family.