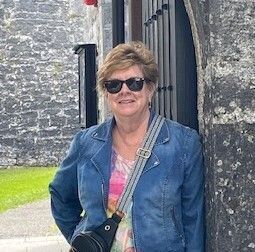 Q&A with Ellen Fort, Director of Development and Marketing
Q: Tell us a little about your background.
A: I was born and raised in Nashville, TN; attended Agnes Scott College in Atlanta; spent my junior year studying in England; and graduated with an English and Creative Writing degree. I've lived in North Carolina since the early 1980s (Whiteville, Charlotte, Raleigh and Winston-Salem). My professional experience has been in a variety of organizations where I could grow my skills in writing, editing, special events, fundraising and more. Some organizations I've worked with include SAFEchild, Rex Healthcare, First Citizens Bank, Salem Academy and College, the NC Symphony and NC Opera. I live in Raleigh; enjoy a blended family of two sons (Germany, S. Korea) and two daughters (Raleigh and Philadelphia); and cherish three grandchildren ages 8 months, three and six.

Q: What drew you to the type of work you do at BEGINNINGS?
A: I wanted the experience of working with a statewide rather than a regional nonprofit, and I loved the idea of telling the stories of the families we serve. I believed that my experience in both marketing and fundraising could be of use to expanding BEGINNINGS' statewide visibility.

Q: What is your role with BEGINNINGS?
A: My role is help BEGINNINGS maximize our visibility, both regionally and statewide; tell the stories of the families we serve to strengthen our networks; work with Board and staff on fundraising campaigns that help undewrite our operational costs; and produce written and electronic materials making a compelling case for BEGINNINGS as the best source of education and information.

Q: Is there one family or a particular family's situation that has most inspired you while you have been with BEGINNINGS?
A: I do not interact directly with families in my role, unlike our Parent Educators. However, the success stories shared with me about families are inspirational and moving, and color what I share about BEGINNINGS. I am in awe of the work our staff does day in and day out to help hearing-impaired children birth to age 22 grow and thrive.