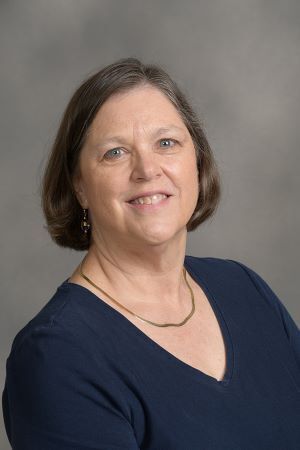 Q: Tell us a little about your background.
A: I grew up near Philadelphia but always loved being outdoors. I went to West Virginia University where I majored in Recreation Therapy. This combined my love for the outdoors with my desire to help people. This is where I met my husband, Doug. We lived in Texas for about eight years where both my boys were born. We missed having four seasons, so we moved to Charlotte to be closer to the ocean, the mountains and to family. Doug and I have been in NC for 33 years and we plan to retire here!
Q: What drew you to the type of work you do at BEGINNINGS?
A: I started my career in geriatrics and rehabilitation. That wasn't for me. When we moved to Charlotte, I started working in the early intervention program and it was a good fit. My second son was born with a syndrome and I realized I enjoyed guiding the parents as much as working with the children. When I saw a position with BEGINNINGS 25 years ago, I thought it was a good fit for me, since my son also has hearing loss. I love this work, and I can't imagine doing anything else.

Q: What is your role with BEGINNINGS?
A: For 16 years I was a Parent Educator working in the Charlotte office. I loved working with parents, especially helping them with the IEP Process. When we reorganized in 2014, I became the statewide Director of Programs. That was a dream job for me, helping other Parent Educators serve the families of NC. Then the board of directors hired me to be the Executive Director when that position became available. Now I am able to make sure BEGINNINGS is growing and serving more families for years to come!

Q: Is there one family or a particular family's situation that has most inspired you while you have been with BEGINNINGS?
A: There are so many families that I remember fondly. I have a family that I started with when the baby was 6 weeks old and I was proud to attend her graduation! I have several families with whom I still exchange Christmas cards every year. I love hearing how BEGINNINGS made a difference for them, and I remind these parents that we only guided them; they did the hard work and their child is thriving because of them. That is the reward for me. My goal is for no parent to walk the hearing loss journey alone. Allow me/BEGINNINGS to be there when you need assistance and to share in the joy of your success!